Dear Parents,
We take pride in caring for children and we strive to provide the best childcare services that are both convenient and affordable for you as a parent. Please take a moment to download and complete all the forms on this page. When you've completed the forms, please email them to Erika or print them out and bring them to From Time 2 Time so we can provide your child(ren) with the best childcare possible!
To download the documents: Right click each image and choose "Save Link As"
Note: Once downloaded, you may fill out the forms on your computer. After filling each form, click "File" then "Save" to save your changes before emailing or printing.
After downloading and completing the required forms, please email your files to flexiblechildcare@gmail.com or bring them with you to our child care facility to complete registration. Please be sure to bring a copy of your child(ren)'s current immunization records.  We are located at 7440 E. Main St. Suite 9 Mesa, Arizona 85207.
Please Email or Print & Bring the Following Documents: 
A copy of your child(ren)'s current immunization records
Child Enrollment Form
Parent Payment Form
Infant feeding instructions (if applicable)
And of course, bring your children!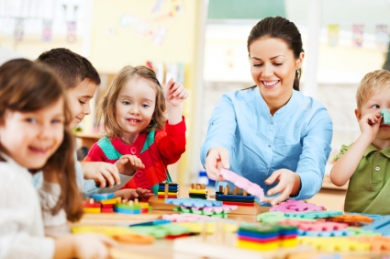 Preschool
Our Preschool program has been designed to meet the needs of working Parents and Guardians. Our packages are set up to include before and after care. Preschool is ran Monday-Friday from 9:00am to 12:00pm. Meals and Snacks can be added to your weekly rate for just $10 more a week.
Our Preschool Philosophy
The goal of our staff is to build an adequate foundation for the children's public school years. The program we pursue is geared toward helping children develop habits of observation, questioning and listening. We want to ease the transition from home to school – helping them to learn how to get along with other children and adults, to develop skills through active games and spurring emotional growth through group activities.
We want you, as a parent, to look into our busy, happy, noisy, creative classrooms and see your child at work and play. We want you to realize the validity of that play and the importance of what is being learned. Parents and teachers together can help the children to develop their full potential. Each quarter our Teachers will send home developmental goals and milestones. We ask that Parents take the time to review with their student and meet with their child's Teacher each quarter. Our program strives to have parental involvement. The key to your child's success starts at home.
Rates: Note: All prices include before and after care, meals included.
Hurry, space is limited!
Starts: August 4th, 2017
Ends: May 23rd, 2017
Hours: 9:00 am – Noon (Curriculum/Structured play)
Days: Monday – Friday
1's / 2's
$175 full-time
$150 part-time
3's / 4's
$160 full-time
$135 part-time
5's
$150 full-time
$125 part-time
Infant Care: (Rate: $200 per week) We offer a 4:1 ratio (4 infants – 1 teacher)
Our infant program offers calm, nurturing environments that provide opportunities for your baby to learn and grow at his or her own pace. Our highly trained Teachers offers a chance for your baby to explore and learn in a safe, fun, and developmentally appropriate environment. Each Infant will experience:
Individualized care and attention
Safe places to explore
Engaging experiences that help them learn about the world around them
The Teachers will stimulate your baby's cognitive, emotional and physical development by:
Singing
Talking
Holding
Reading
Playing
---
All activities in the classrooms are designed to enhance the social, emotional, physical and intellectual development of each child where children are learning through their play and direction of teachers. The center creates bi-weekly learning themes where children are learning a new theme, letter, and color in the infant, toddler, and preschool classroom. In our preschool program the lesson plans are developed to include science experiments, math activities, listening activities, and reading programs.
Here are just a FEW of our program activities!
Story Time
Painting & Artwork
Music & Movement
Themed Art Activities
Science Experiments
Math Projects
Outdoor Play
Learning Centers
Blocks
Dramatic Play
Listening Center
Writing Center
Calendar with Journaling
Sign Language