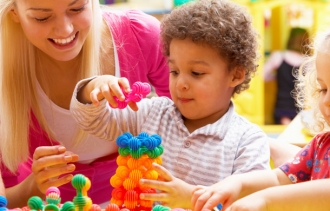 Mobile-Event Sitters is your Daycare in a box Our on-site childcare service is perfect for Weddings, Private Parties, Expo's, Corporate functions, S-L Mixers, and much more!
After hours of planning an event have you had the experience of guest not attending because they had no "childcare" options? We're here to solve that problem! We have professionally trained Staff who will come to your event and entertain the children while the Adults have the luxury of enjoying themselves.
Childcare services are set up on-site with a slew of activities for the kids to do and all necessary equipment (baby bouncers, swings, changing table, etc.). We bring the party so call today to talk to a member of our team for more details or to book us for your next event. We create budget friendly packages, so please call for rates.
All Staff Have been finger printed, have CPR-First Aid Card, Food handlers Card, CPS background check, and on going training in childcare.
---
Facility Rental
We have a 4,300 sft. facility that we can Staff for you in the case that an event you are hosting has no place for children, but you still want to offer your guest childcare services.
All services are for children 6 weeks to 12 years old.
Sitter care comes with art supplies, crafts, WII, Play Station 11, Kinect, travel cribs, baby bouncer, baby swing, safety gates and board games.
$250 for 2.5 hrs ( We do everything from set-up to clean-up)
each additional hour is $75
For small group meetings please call for special pricing (Mary-K, Origami Owl, Park-Lane, etc.)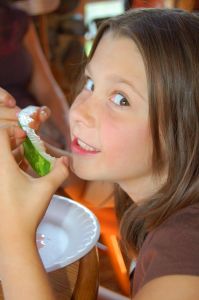 Here at From Time 2 Time, we launched a  program called Family Style Eating. Children have really taken to this program well and they enjoy being apart of the whole process. Family Style Eating is a  mealtime set up to mimic dining at home.
Children and teachers sit together at one table, sharing the same menu and talking in an informal way. Our kids learned how to pass dinner bowls, use tongs and spoons for food selection, practice saying, "Please" and "Thank you" and finally, cleaning up.
Our teachers assisted the kids by using the "hand over hand" technique to help guide the serving spoons to the right destination. We discovered our mealtimes lasted longer and our kids ate more food than expected.
Conversations actually started and picky eaters weren't as picky when they got to put the food on their own plate. Last week's success encourages us to keep up with our new program into the rest of year with confidence!
Want to try Family Style Eating at home?
Introduce the process slowly, ask your children to help set the table or scoop out food items onto their plate or maybe even clean up. The main point to family style eating is to help kids with the meal time process in order to foster self- help, self confidence and life skills.
---
Meals and snacks are provided throughout the day. Breakfast meal costs $1.80, lunch and dinner are $2.00. You are more than welcome to bring meals, snacks, and beverages from home, please label your child's name on all personal items.  A refrigerator will be available, but icepacks are preferred.
We provide nutritious food, to help your child maintain a healthy diet. All meals are served with fruit or vegetables and our weekly menu is posted for you, in the lobby area. We serve a variety of a foods, including (but not limited to) chicken, fish, pasta, green beans, corn, and fruit cocktail. Snacks consist of crackers or pretzels, cookies, sliced apples and more.
Planning a night out? Drop your kids off here! We are hosting a Valentines Date Night on the  Saturday February 17th, 2018
Hours                                                                                                                                                                 
7:00 p.m. – Midnight p.m.
Pricing:
$35 for the first child
$10.00 each additional sibling
*Enrollment paperwork required, please call for details
Activities include:
Snack
Free Play
Movie
Arts & Crafts
Reserve Your Space Today!
Call (480)654-2019
Visit us at 7440 E. Main St. Suite 9 Mesa, Arizona 85207